We support change-makers in action.
Our work is available and open source for everyone to use.
While it's hard to pick from a list of over 70 projects completed, we're highlighting some examples of our work to give you a better sense of our approach and diversity of projects.
We developed these resources in various areas of work hope they may be useful for your projects and initiatives.
Kelowna's Strategy to Prevent & End Homelessness
In one of the most engaging community consultations we've ever been part of, Turner Strategies partnered with the Canadian Observatory on Homelessness and A Way Home Canada in 2018 to support Kelowna's Mayoral Task Force to develop the path forward on this complex issue. The resulting strategy sets a new bar for community engagement, thoughtful leadership and the meaningful inclusion of lived experience voices.
Calgary Plan to Prevent & End Youth Homelessness Refresh
In 2017, the Calgary Youth-Serving Sector commenced a comprehensive process to update the city's plan to prevent and end youth homelessness. Our role was to support the process with research, technical analysis and Plan writing. The result of our collective efforts is an approach grounded in Housing First, system planning and integration, focused on prevention.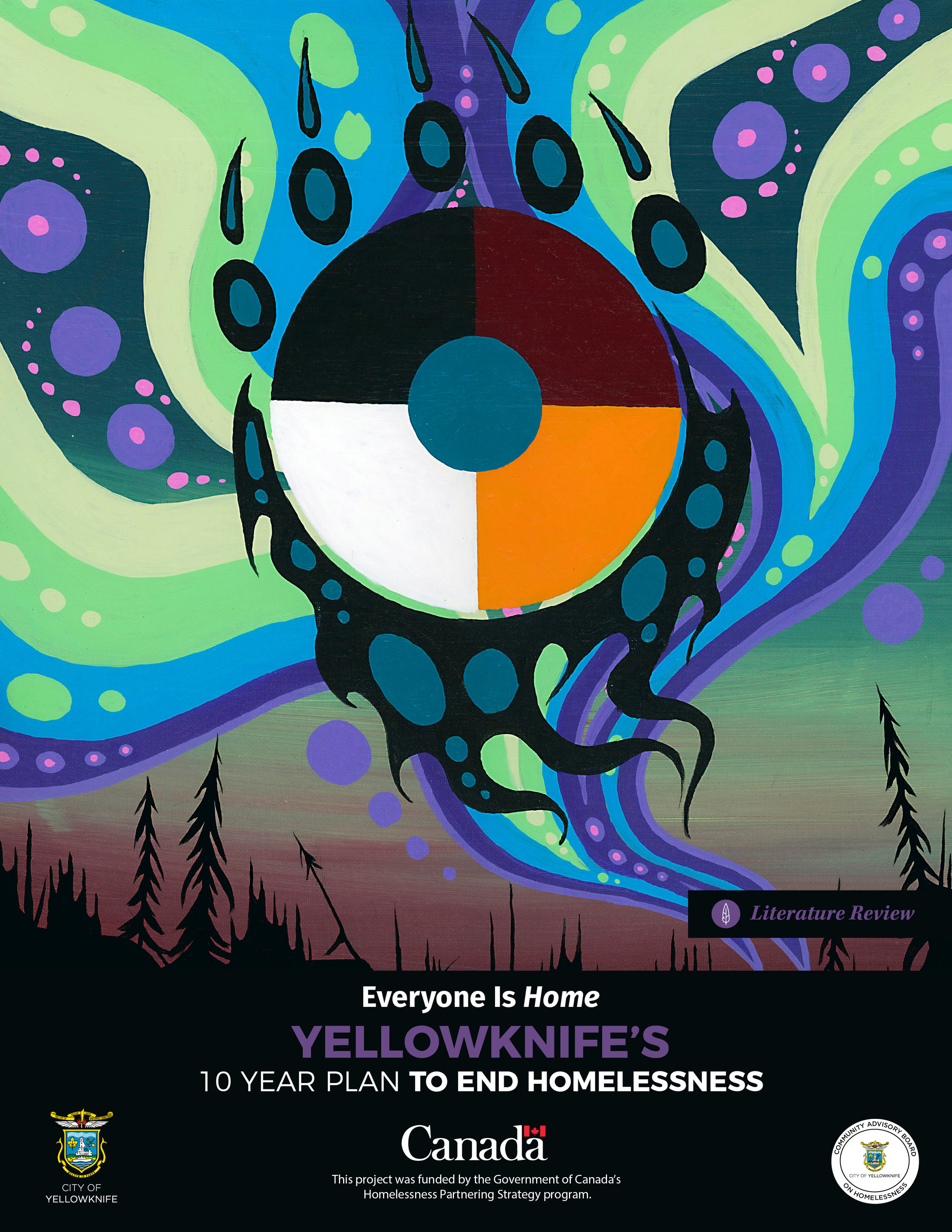 Yellowknife Plan to End Homelessness
Working with community leaders, we helped the city develop its strategy to end homelessness embedding the prioritization of Reconciliation and healing. This ambitious plan sets Yellowknifers on a tailored path to address local priorities and develop innovative approaches to complex social issues in Canada's North.
Several cities and regions have announced that they have "ended homelessness," as this goal has become a major part of policy and community-based responses to homelessness. Yet, there are different ways to define what "ending homelessness" actually means. It is almost never meant in its most literal form, which would mean having every resident in a community sleeping in his or her own, secure home, on any given night.
Updating Edmonton's Homelessness Plan
With significant experience in Housing First and system planning, Edmonton is on the forefront of international best practice efforts to end homelessness. Part of their ongoing refinement included the update to their Plan to End Homelessness in 2017, which led to significant enhancement of their focus on systems integration, prevention and data-driven decision-making. Turner Strategies provided strategic advice and co-developed the plan with Homeward Trust and the City of Edmonton.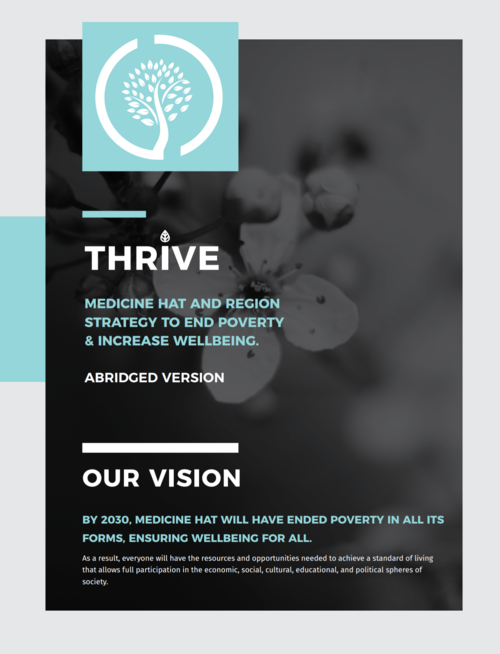 Medicine Hat has set the goal of ending poverty and enhancing wellbeing by 2030, in alignment with the United Nations. This bold plan was built from the ground up based on the input of 500 residents and grounded in best practices. It provides the community with a path forward to impact the interrelated issues of housing, income, food security, safety, health and wellness, education, transportation, and healthy families.
System Coordination Framework
This document was developed as result of our work with End Homelessness St. John's and the City of St. John's where we developed as System of Care Map, as well as strategy to coordinate homeless serving agencies using Coordinated Access and Assessment. You will find useful tools here that you can apply in your own community and use this document as a guide if you are developing your own Framework.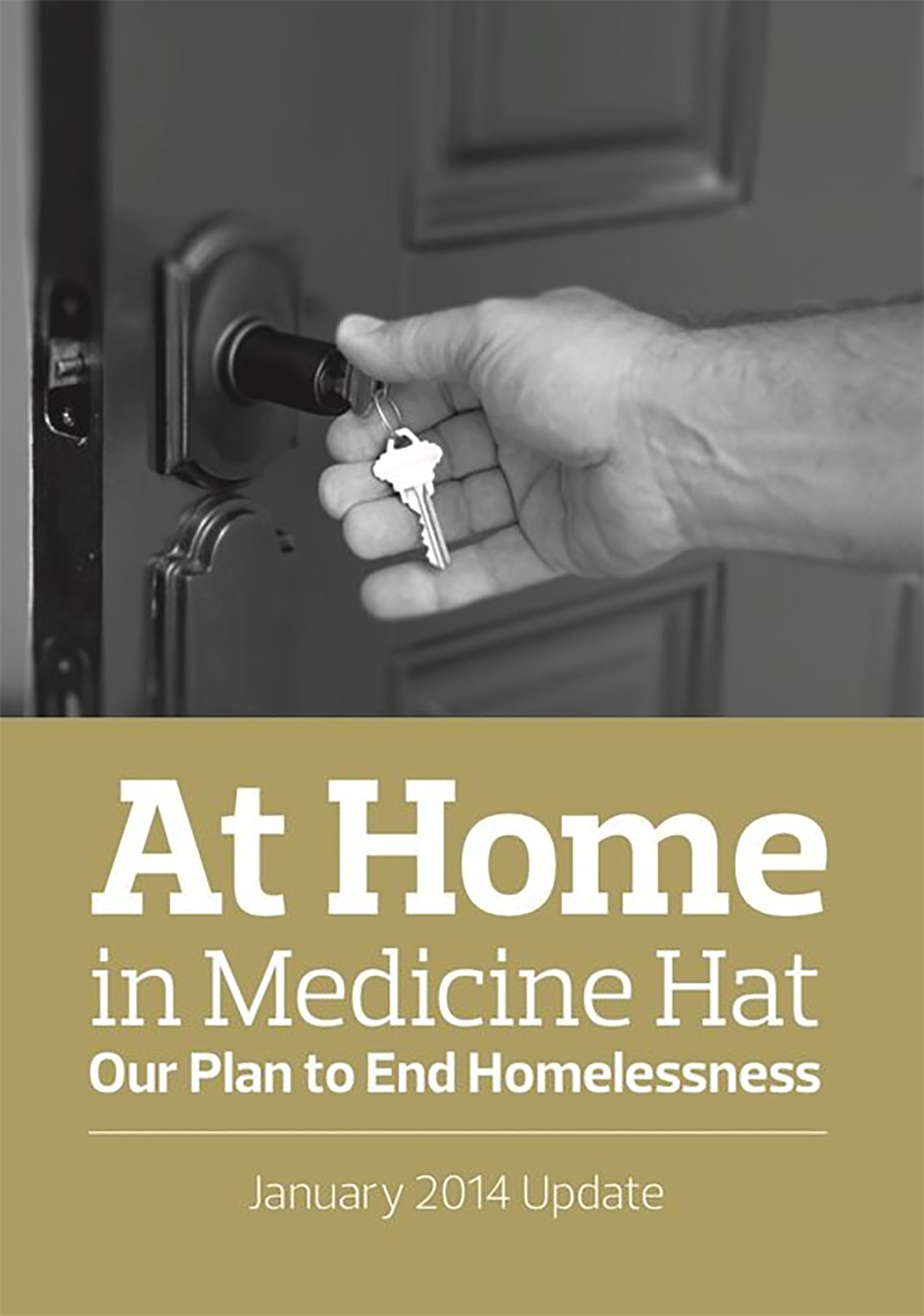 Medicine Hat Plan to End Homelessness
Medicine Hat is known as the first city to eliminate chronic homelessness. Our work with the Medicine Hat Community Housing Society focused on evaluating their strategic approach, engaging diverse stakeholders in re-visioning the Plan and proposing a new way forward. The Plan outlines targets, performance metrics as well specific actions and resources needed to end homelessness. This Plan is considered a model for other communities, not simply because of its promised, but because of Medicine Hatters' ability to deliver on it.
Based on a comprehensive evaluation of three federally and provincially-funded programs for youth, this document highlight the findings from a Foyer project in Calgary - Haven's Way - operated by the Boys and Girls Clubs of Calgary. The evaluation framework used can be applied to other program models as can the multi-methods approach that included youth, staff and external stakeholder perspectives, quantitative and qualitative methods, as well as site visits and document reviews.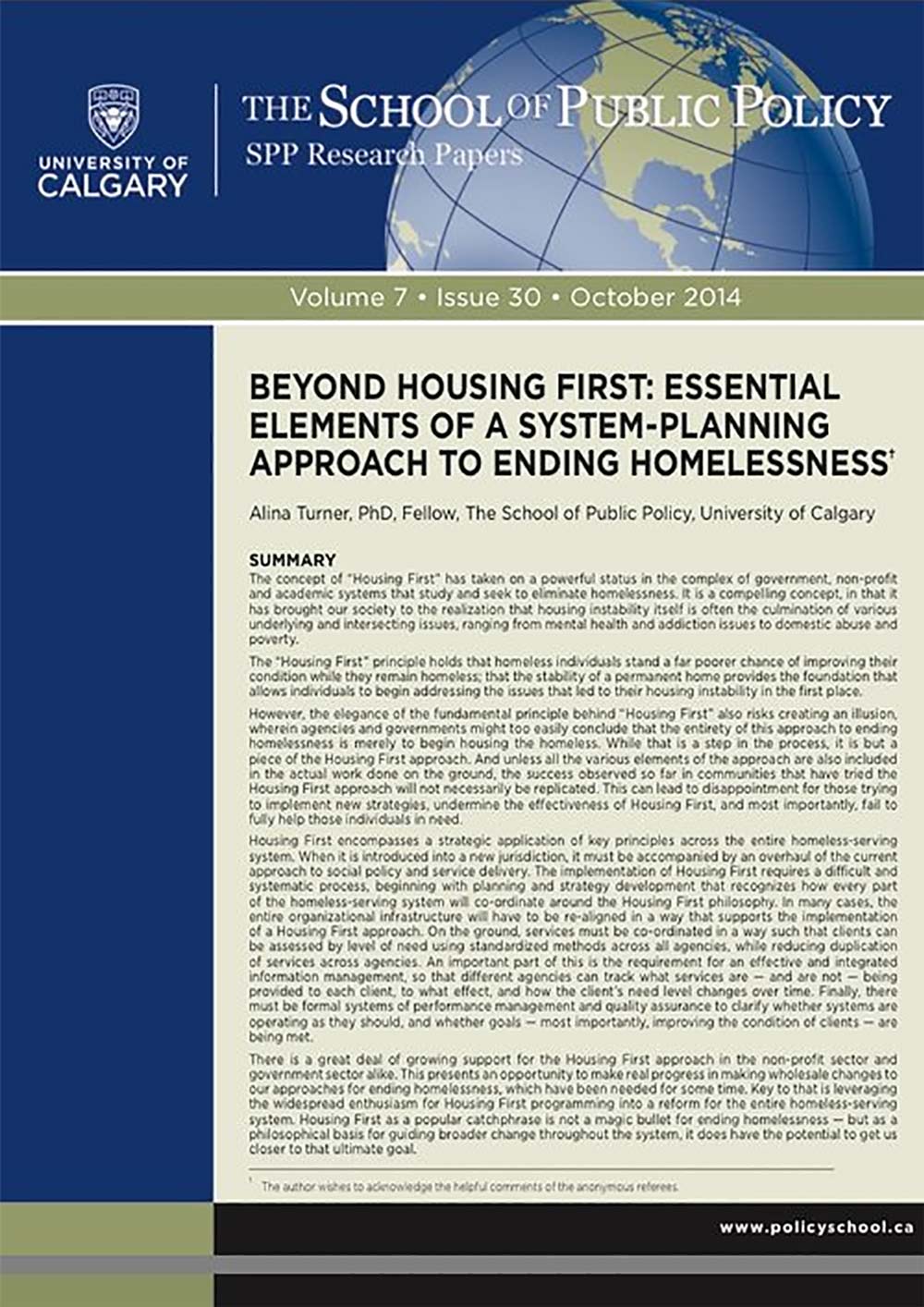 Essentials of System Planning
This policy paper was developed for The School of Public Policy to provide communities, researchers and policy makers with an overview of system planning work and its essential elements. This paper is a great overview of system planning, and while initially developed with ending homelessness in mind, it has since been applied to areas including poverty and domestic violence.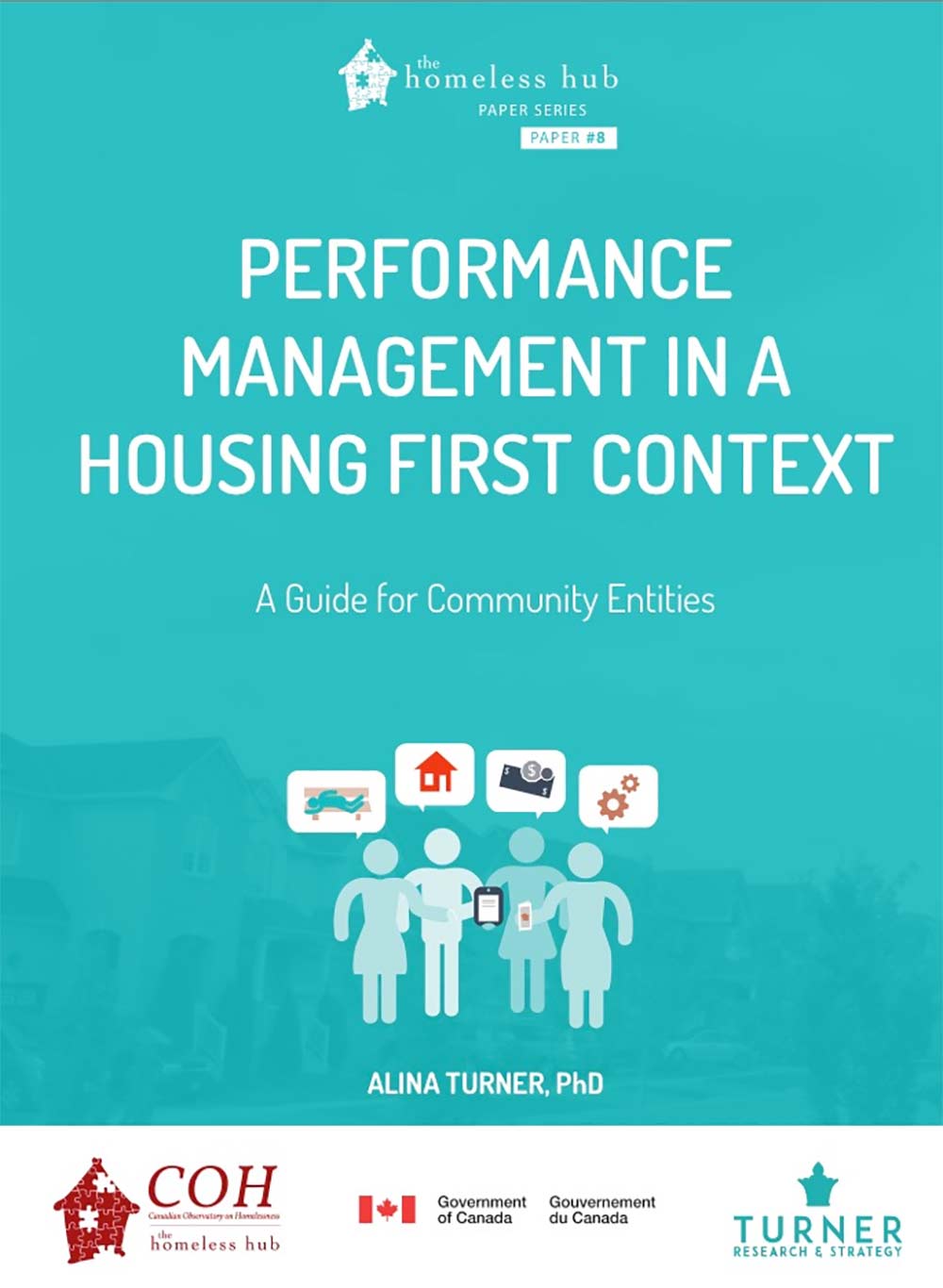 Performance Management Guide
In response to the Homelessness Partnering Strategy's request, the following comprehensive guide to performance management in a Housing First context was developed. It is targeted towards funders, however, paints a fulsome picture of how system planning, service quality, funding allocation, and strategic planning can work to advance the goals of ending homelessness across stakeholders.
Planning Guide to End Youth Homelessness
This community planning toolkit was developed for A Way Home Canada to support their work in ending youth homelessness. The document provides a detailed look at what it takes to develop a local strategy to address this complex social issue. The guide outlines engagement strategies, government relations, budgeting, best practice analysis and community readiness with a Community Impact lens.
We partner with a variety of non-profit, private and public sector organizations engaged in social impact and innovation work across Canada. Below are some examples.
Government and National Organizations